---
The Retro Sheet
Official Publication of Retrosheet, Inc.
Volume 4, No. 2 July 1997
---
New Member
Annual Meeting Report
View from the Vault
Completed Seasons, League-seasons, and Team-seasons
Publicity
Scoring Rules
Strange and Unusual Plays
The Scoreboard
New Member

Normally, a new member of the Retrosheet family would not be front page news. However, turning over his baseball card we find the following vital statistics: Name - Graham Tetlow Smith; Parents - Dave and Amy Smith; Born - 6/29/97 at 5:36pm in Wilmington, DE; Height - 20"; Weight - 7 lbs 10 oz; Hair - black; Eyes - Blue. No word yet on his throwing or hitting style or what position he might play. We hear that he is a possible first round draft pick by the LA Dodgers next spring.
When he was about a week old, Dave took him to the Retrosheet central office (the cellar). Graham was shown the vault (he was unimpressed) and the input program (he fell asleep!) It seems obvious that Graham is smarter than his dad.
Annual Meeting Report

The Board of Directors met in Louisville, KY on June 22, 1997 during the SABR Convention held there. The Board took a number of official actions, many of which were slight wording changes to the By-Laws or Policy Manual. Among other actions, Dave Smith and Sherri Nichols were re-elected to their seats on the Board.
During the winter, Gary Gillette proposed donating all data files for the seasons 1984 through 1990 to Retrosheet. The earlier files originated with Project Scoresheet and the later ones with the Workshop. The Retrosheet Board enthusiastically voted at the time to allow the two presidents to negotiate to exact details of when transfer occurs. Thank you, Gary!
The By-Law changes were as follows: 1) adding a sentence to specify the exact starting day of a directorís term of office (July 1); 2) allowing an e-mail vote for those actions taken between meetings; 3) remove all reference tp the phrase "games played prior to 1984" (due to the impending transfer of files from BB Workshop); 4) changing the registered address of the corporation to Dave Smithís new residence; 5) specify that the secretary shall maintain the Policy Manual (already done in fact, now by law). Changes 3 and 4 were also made to the Policy Manual.
Lyle Spatz, Chair of SABRís Records Committee, wished to thank Retrosheet for our continuing effort to pass along newly discovered record changes. He especially wished to commend Greg Beston and told the Board that Greg should get a raise. The president immediately doubled Gregís salary. Congratulations Greg!
View from the Vault
David W. Smith, President

My topic this time is more personal than baseball-related. This year has been an extraordinary time in my life, with the move in May and the birth of my son, Graham, in June, to say nothing of still having to work for a living. I am extremely happy with all these developments, but they have eaten into Retrosheet time. As a result I got very far behind in my correspondence and some volunteers waited patiently for six weeks or so until I could get them more scoresheets to process. I am happy to say that I am digging out from the backlog and things should be returning to a normal turnaround time pretty soon; I appreciate the patience that everyone has expressed. Many thanks to so many of you for the good wishes you have extended on Graham's birth. He is a delightful baby, even when he needs to be changed in the middle of the night, and he is a great reminder about what is most important. Next time I'll talk about baseball.
*** Who is the only major leaguer with a star on the Hollywood Walk of Fame? ***
Completed Seasons, League-seasons
and Team-seasons

Full Seasons (both leagues)
    1983
    1982
    1981
    1980
    1961

League-seasons not included above
    AL      1979, 1978, 1975, 1967, 1964, 1960

"Completed" league-seasons
    AL      1965   (minus 3 missing Angels games)
    AL      1963   (minus 6 missing Angels games)
    AL      1962   (minus 5 missing Angels games)
    AL      1959   (minus 3 missing games)
    NL      1979   (minus 30 missing games)
    NL      1978   (minus 20 missing games)
    NL      1973   (minus 80 missing games)
    NL      1964   (minus 50 missing games)
    NL      1963   (minus 52 missing games)

Team-seasons not included above
    BAL      1977, 1976, 1974, 1973, 1972, 1971, 1970, 1969, 1968, 1966, 1957 (minus 2 games), 1955, 1954 (minus two missing games)
    BRO      1957, 1956, 1955, 1954, 1953, 1952, 1951, 1950, 1949, 1948, 1947
    CHN      1969
    CIN      1976, 1975 (minus 2 missing games)
    CLE      1949
    DET      1968, 1953
    KCA      1977, 1976, 1974
    LAN      1962, 1960, 1959, 1958
    MIN      1977, 1965
    NYN      1973, 1969, 1968, 1967, 1965, 1962 (minus 3 missing games)
    PHI      1974, 1973, 1972
    SFN      1971, 1970, 1969, 1968 (missing 3 games), 1967, 1966, 1965, 1962, 1960, 1959, 1958
    SLN      1967, 1965
    WS1      1945 (missing 2 games)



In addition, all post-season games (World Series and LCS) are completed, as are all pennant playoff games.

Publicity

In the June 25 edition of USA Today Baseball Weekly, Paul White mentions the news report about length of games in the 1925 AL that was in the last issue of The Retro Sheet. Paul ends with "thanks to the researchers at Retrosheet for finding that one." Thank you for the mention, Paul.
Scoring Rules

In 1925, when a base runner was hit by a batted ball, no putout was recorded on the play. This left the defensive team one putout short for the game. David Vincent has been assigning a putout to the logical defender so that the input program will recognize the out. Please report any unusual scoring decisions like this to Dave Smith and place a comment in the file.
Strange and Unusual Plays

From Clem Comly:
06-30-1920 (1) BRO @ NY1 - Here is the bottom of the ninth inning: Lee King (batting 6th) singles; Al Lefevre (batting 9th - out of order!) strikes out; Frank Snyder (batting 8th - out of order!) grounds out; Bill Hubbell (batting 7th - out of order!) is pinch hit for by Benny Kauff, who singles and scores King; George Burns (batting 1st - out of order!) grounds out. So the progression of batters is 6, 9, 8, 7, 1 in that inning.
Here is Clemís description: "A PH, Benny Kauff, came up thinking he was batting for Hubbell. If the Dodgers appeal now, Burns is out, King returns to 1b, and Bancroft has been replaced by Kauff."
Confused??? Good, so was everyone at the game!
From Rick Elliott:
5-2-1955 NYA @ DET - Rick posted a note about this play on SABR-L which generated a long discussion among the subscribers. This play occured in the bottom of the third inning with Tigers on every base and Ferris Fain at bat. The play string is: 361.3-H(RBI);2-H(E6)(E2)(NR);1-2. Rickís description is as follows: "Weird play. SS got E for missing 2d; Fain out at 1st; then Berra dropped throw at plate and 2d run scored."
From Tom Eckel:
6-17-1926 CHN @ BRO - Concerning a goofy Dodger play, Tom wrote: "I've heard the stories and it appears they are true! In the 6th inning, Gonzales led off, grounding out. He then went to coach at third. With bases loaded, Herman threw to Maranville at 2nd for a force out. Maranville made a wild throw back to Herman trying for the DP. Herman retrieved the ball. Gonzales (now the coach) ran toward home. Herman threw to catcher O'Neill who, seeing Gonzales head toward the dugout without touching home, chased him to the bench to make the tag. In the meantime, 1 run scored and the batter went to third. Umpire Klem allowed the play to stand."
From Dave Smith:
7-7-1923 BOS @ CLE - Cleveland beats Boston 27-3 by scoring in every inning. In the 6th, CLE scored 13 times, but with the score 22-3 and 11 runs already in, Luke Sewell singled and stole second! He had been hit in the back earlier in the game, so maybe this was a payback. The inning ends when Riggs Stepehenson is caught stealing third (15) (an odd CS for the period). In the 7th, with the score now 24-3, Rube Lutzke leads off with a single and steals second. Later in the inning, Frank Brower is thrown out at plate trying to score from 2nd on a single. This inning ends on another CS3(15) by Steve O'Neill, the catcher. In 8th Luke Sewell is thrown out at plate truing to score from 1b on a double. Was there bad blood between these two teams?
During the years 1922 through 1924, the New York Evening-Telegram would run a daily box with a pitch-by-pitch account of every one of Babe Ruthís at bats. The Pittsburgh Gazette-Times has "The Truth about Ruth" nearly every day in 1921, which is a pitch-by-pitch account like that in the Evening-Telegram. This was a nationally syndicated feature produced by Al Munro Elias. For both of those features, Retrosheet says "Thank you!"
From Stuart Shea:
8-21-1969 SDN @ MON - In the bottom of the second inning, Coco Laboy hit a ball to lf on which he reached 3b when it was dropped. Stu entered the following commentary into the game account: "Catchable ball dropped by Ferrara; scoresheet says the Expo dugout exploded in a 'juvenile display' when the E7 ruling was put up; official scorer for game was Jacques Doucet, who is now an Expos broadcaster; Gene Mauch (Expos manager) called pressbox during game, arguing 'That's not Ty Cobb out there', referring to Ferrara; Doucet countered, 'I'm the official scorer! The guy had it in his hands and dropped it. How can I call that a hit? I don't want to hear any more about it.'" [Way to stand up to the manager, Jacques!]
From David Vincent:
07-02-1925 DET @ CLE - In the top of the 4th, the Cleveland Plain-Dealer describes a SB/E2 thus: "Cobb injured his leg sliding into 2b but wiggled his way to 3b where he collapsed and had to be carried from the field."
08-11-1925 BSN @ CHN - In the top of the first, the Braves got a little confused about the batting order. Gautreau grounds out; Bancroft singles; Welsh singles, moving Bancroft to 3b; Burrus (batting 4th) singles, scoring Bancroft and moving Welsh to 2b; Felix (batting 7th - out of order!) walks; High (batting 6th - out of order!) singles, scoring Welsh and Felix and moving Felix to 2b; Mann (batting 5th - out of order!) grounds into a double play. That makes the progression through the batting order 1234765. In the second, High bats again (correctly) after Mann. The Chicago Daily News account of the game notes that Felix is batting out of order.
09-04-1925 CIN @ CHN - With runners on first and second, Jakie May bunted. The catcher, Gabby Hartnett, threw the ball the 3b to force Sam Bohne. Howard Freigau then relayed the ball to Sparky Adams at 2b for an unusual double play 25(2)4/GDP/BG.1-2.
*** The only major leaguer with a star on the Hollywood Walk of Fame is John Berardino, who starred in General Hospital. ***
The Scoreboard

We follow the practice of publishing a short version of the scoreboard in this issue. We publish a complete version once a year. The current summary for regular-season games is as follows:


Total Games in Computer (All Years before 1984)         39,214
Games Entered since last Report                            591
Days since last Report (5/17/97 to 7/11/97)                 56
Games Entered per Week (8 weeks)                          73.9
Games Entered per Day                                     10.6


The smallest number of games input in a single week during this period was 54 and the highest was 252.
The charts on this page represent the current Retrosheet holdings as of 7-11-1997. The totals for the period 1901 through 1983 are: 115,666 games played in the AL and NL; 58,906 for which we have at least one account (51%); 39,214 that are input (34%). Those numbers are growing because of the great number of game accounts available around the period of the 1920ís from newspapers as well as some key acquisitions of scorebooks from various sources (notably Luke Kraemer.)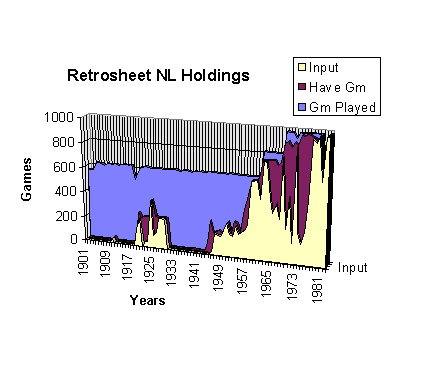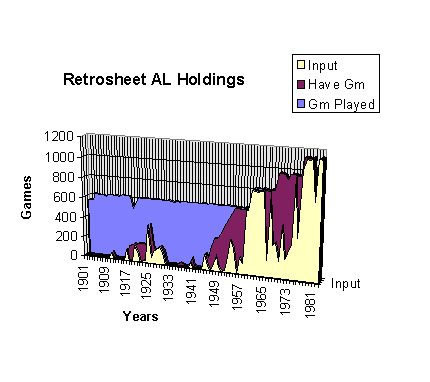 Return to News Page
Return to Retrosheet Home Page

Page Updated: 8/12/97

Copyrighted: Retrosheet, 1997