---
The Retro Sheet
Official Publication of Retrosheet, Inc.
Volume 3, No. 3 August 1996
---
Convention Report
View from the Vault
Retro Internet
Proofing
Newspaper Survey
Projects
Syntax
Game Account Acquisitions
Publicity
Newly Completed Team- and League-seasons
Strange and Unusual Plays
The Scoreboard
Convention Report

The annual Retrosheet Board Meeting took place on June 6 in Kansas City during the SABR convention; it was attended by about 35 people. There were a few minor amendments to the By-Laws and David Vincent and Luke Kraemer were reelected to three-year terms on the Board of Directors. David was reelected as Secretary. The rest of the meeting covered routine matters and concluded with a demonstration of our web page (more on that later.)

View from the Vault
David W. Smith, President

There is one particular topic which I would like to bring to everyone's attention and that has to do with problems that are uncovered in the official records. Dozens of cases have been found where it is clear the official totals are in error. The majority of these have been found by Ron Rakowski and Luke Kraemer although Clem Comly, Greg Beston and I have discovered a few as well. The SABR Records Committee discussed this matter at its meeting in Kansas City, although what action SABR will take is unclear. The question here is what the role of Retrosheet, if any, in this discussion should be. I am persuaded that Retrosheet will be best served by an organizational policy of staying out of the fight. It would please me very much for our data to be used in these discussions, and my personal view is that clear mistakes should be changed, such as the RBI and runs errors that Ron found for 1961. However, the organization's basic mission is the collection and distribution of information. If we adopt a formal position of advocacy, there will inevitably be antagonisms and disagreements that could harm us. This matter has not been discussed within the Retrosheet Board and my comments here should in no way be seen as organizational policy. Comments are welcomed.

Retro Internet

As noted in the last newsletter, Retrosheet now has a web page, thanks to the efforts of our webmaster Mark Pankin and his team of Sean Lahman, Tim Cashion, and Leanna Bush. The page is really nice and already has some data and programs posted for people to download. The URL is: https://www.dcez.com/~mdp/retro with the computer space being donated thanks to Mark Pankin's efforts with his internet provider. All of you with web access are encouraged to take a look around our site. We have created a link to the SABR web page and are talking with SABR about having them linked to us. Tom Tippett's DiamondMind web page also has a link to ours and Tom has published some of our research data as well. Sean Lahman has contacted some of the internet indexing services to try to get us included in the baseball listings, which should definitely increase our visibility. Eventually it would be nice to have our own domain name, so that people could log on to: https://www.retrosheet.org or something like that, but domain names are not free and it may be beyond our means for now.

Proofing

BY DAVE SMITH: Now that we have some full seasons in the computer, it is time to move on to the daunting task of checking the files for discrepancies with the official totals. To that end Pete Palmer volunteered to work on the 1983, 1982, and 1981 AL seasons. I generated season totals for all players, compared them to the official totals and sent the list of differences to Pete. Using a program that I wrote to prepare daily totals for players from our data, Pete examined the official daily totals to find the games in which we had differences. For 1983 there were over 1000 discrepancies that Pete found in some 35 hours of work. He sent the list to me and I edited the files with these corrections. In the end the 1983 AL Retrosheet data agree with the official totals for all players in all batting and pitching categories with two exceptions: 1) the official records assign an intentional walk to Greg Luzinski instead of Rudy Law on May 6, and 2) the official records credit Cliff Johnson with a GDP on July 26 (game 1). That is an outstanding record of compliance for our data. I am convinced that the official totals are wrong in both cases and Pete Palmer agrees that the intentional walk totals in the official record are self-contradictory.

The 1983 NL also had several hundred discrepancies with the official totals. The procedure here was different since we don't have access to official daily totals for the NL. John Jarvis of Augusta, Georgia spent many hours this summer doing the detailed checking. I determined the differences from the official totals and sent this list along with the daily data files for the affected players to John. John then processed the daily files with his own programs to create running totals for each player in each category and compared the values to the weekly numbers printed in The Sporting News, identifying the week in which the discrepancy arose and allowing me to focus on those few games to find the problem. All errors have now been corrected so that we are in compliance with the official totals in all batting and pitching categories for all players. The feeling of accomplishment is incredible and we should all be very proud. Many thanks go to the dozens of people who worked on the 1983 season.

The final step for both leagues is for David Vincent to process the files with a program that Mark Pankin wrote which identifies which runs are unearned. The files are then edited so that each unearned run is marked explicitly, in addition to the total we enter at the end of the game. This notation will allow us to do things like calculate ERA by inning. The files have just been sent to David and after the unearned runs are completed, the files will be ready for release, hopefully in the next few weeks. They will be placed on the Web page as soon as they are released.

Newspaper Survey

Joe Dittmar has continued his survey of Philadelphia newspapers, as described in the last newsletter, and he has identified some additional sources for old play by play accounts. However, the response from other cities has been disappointing, with Neal Traven in Pittsburgh the only new volunteer for this library survey. There is no doubt that this activity is very time-consuming and it does require access to a library with decent holdings of microfilmed newspapers. However, it is clear that we will increasingly depend on these newspaper accounts and therefore the request for help in this area goes out again. If you have appropriate library access and wish to help, please contact Dave Smith.

Projects

As this is written, Paul Molitor is about 50 hits away from 3000. You may recall that Dave Smith did a detailed listing and analysis of Dave Winfield's 3000 for the Twins in 1993 and of Eddie Murray's 3000 for the Indians in 1995. The Twins recently called Dave and asked for the same detailed breakdown of Molitor's career, which will include a chronological listing of all hits, record in each park, against each opposing team and each individual pitcher. The Baseball Workshop will provide all the post-1983 data, but Retrosheet still needed to do some inputting to complete the first part of his career. Thanks to prompt "emergency" help from Dave Lamoureaux, Greg Beston, David Vincent, and Jon Dunkle, these games from the early part of Molitor's career will be completed in time for Paul's 3000th later this summer.

Clem Comly has completed data entry for the 1973 NL (except for the 86 games we lack) and has now turned his sights on the 1978 senior circuit, where we are missing 43.

Having finished the 1975 AL, an accomplishment which was inadvertently omitted from the last newsletter, Greg Beston has turned his attention to the 1979 AL. He has completed the Red Sox for that year and is halfway through the Indians. He might have finished the Tribe by now also except for his help on the Molitor project.

Dave Lamoureaux's attack on the 1965 AL (minus the Twins which Bob Kapla has nearly finished) has reached the 4th of July, although his 60 game detour into Molitor's early years has slowed him a bit.

Brad Sullivan has spent a lot of time in the Cleveland library lately digging out accounts of the 1940 Indians from the Cleveland Plain Dealer. He has translated all their games through July 21 of what turned out to be a very exciting AL pennant race.

Rick Elliott and Jim Herdman continue their work on the 1953 Tigers and 1954 Senators, respectively.

Steve Hamilton continues his work on the 1965 Cardinals as we clearly have a lot of effort directed at the mid-1960s.

In addition to his help with the Molitor games, David Vincent has been working through the 1925 accounts we have from the New York Evening World, encountering the start of Lou Gehrig's consecutive game streak among other interesting events. David has also been editing the 1967 AL files resolving some missing plays by using scoresheets not available at the time the games were entered.

Tom Eckel has taken on the 1926 New York Evening World accounts and has reported his delight at entering games in which Lou Gehrig and Babe Ruth face Walter Johnson.

Having finished the 1976 Reds last year, Bill Disney is now well into the 1975 version of the Big Red Machine.

Jon Dunkle is a new Retrosheet volunteer who is very familiar with our scoring system from his time with Pursue the Pennant. Jon is a long-suffering White Sox fan who has been working on the 1979 edition of the team, along with his help on the Molitor project.

Scott Fischthal's entry of the 1965 Mets is done and he is now well underway on the 1967 Mets.

Stuart Shea has just completed the 1969 Cubs and is moving on the 1969 Padres.

Shannon Lynn has finished the inputting of the 1967 Cardinals World Championship team and has turned his attention to the Dodgers of that year.

Jim Leopardi has completed the 1963 Cardinals and has embarked on two projects between which he alternates: the 1962 Cardinals and the 1957 Red Sox, the latter being a wonderful Ted Williams season for which we have game accounts for almost all games.

Arnie Braunstein is making his way through the 1974 Orioles and has reached early August.

The group of about five inputters who have been working on the 1980 AL are nearly done, with fewer than 100 games remaining as this is written. The 1980 NL still needs entry of about 230.

Syntax

Rick Elliott encountered some uncommon plays which raise good questions about proper syntax.

1) (Bases empty). Batter singles to left. LF bobbles the ball and batter takes 2d and heads for third. LF then heaves ball into dugout allowing the batter to score. Multiple errors where the initial play is NOT an error are an unusual situation.

Rick has identified one area where our system allows some ambiguity, namely that we do not indicate how runners got to intermediate bases, only their final destination. The play Rick describes should be entered as: S7.B-H(E7)(E7/TH) which really leaves some room for doubt. On the whole we are OK, since this sort of thing doesn't happen very often. It is not a good idea for us to start marking every base advance on all plays. The ultimate silly example of that would be:
HR.B-1;B-2;B-3;B-H

2). (Bases empty). Batter singles to left. LF bobbles the ball, batter takes 2d and heads for third. LF then recovers and throws the batter out at third. So there's a hit, an error an assist and a putout on the play.

The proper entry here would be: S7.BX3(E7)(75) which does contain all the information we need and is decipherable by careful inspection.

Game Account Acquisitions

The big news this time has to do with the splendid help we have received from Phil Bergen, of Needham, MA. Phil is a SABR member who spent a large number of hours at the Boston Public Library on our behalf finding and photocopying play by play accounts from the Boston Record-American and Boston Advertiser. Specifically he obtained accounts that we needed of games from 1955-1965 involving the Red Sox against the Athletics and the Angels. There were only a few occasions on which he could not find a complete game account and in those instances he copied the game stories so that we can have a decent chance of piecing together the events of the game. Thanks to Phil's work, we are now missing only a handful of AL games (fewer than 20) for all seasons combined from 1955-1983; there are about 15 more for which the play by play account is only for part of the game. Anyone who has tried to use the Boston Public Library for microfilm copying knows how difficult their system makes it; furthermore the library does not lend microfilm through interlibrary loan so it was essential to have help in Boston. We owe a great deal to Phil for this wonderful contribution to our collection.

Through interlibrary loan Dave Smith has received microfilm of the New York Evening Telegram for the 1920 and 1921 seasons; 1921 copying is complete and 1920 is underway. The coverage of this paper is superior to that of the New York Evening World that we have copied for later in the 1920s, since the Evening Telegram printed on Sundays and holidays! The only baseball season date for 1921 on which the paper did not publish was July 4. This detailed coverage basically ends in 1925 due to a merger with the Evening Mail, but it appears that the accounts go back to the start of the century, which is very exciting indeed.

Recently there was a phone auction for a 1965 Dodgers scorebook, kept by sportswriter Frank Finch. Luke Kraemer took charge of bidding for the book, but had to drop out when the price exceeded our limit. However, Dave Smith called the auctioneer the next day and persuaded them to make photocopies of the four games that we needed for the Dodgers for the 1965 season. These have been received, completing another team-season for us.

In the last newsletter it was noted that we needed only two AL games for the period 1966-1983. The game of July 4, 1978 has been received from Patty Skommesa of Seattle, who has attended all but 19 home games in Mariners history. She graciously sent a copy of her scoresheet for the needed game and we now need only the DET-MIL contest of September 27, 1975.

We continue to receive game accounts from Joe Dittmar and Lyle Spatz, as they encounter them in old newspapers and make copies for us. Lyle recently sent a doubleheader for the Dodgers at the end of the 1916 season as they clinched the pennant. Joe sent the first two games played in Shibe Park in 1909. Dave Smith immediately input the 1909 games, thereby giving us computerized games for every decade this century. How long until we have one from each year?

David Vincent has been working on newspaper accounts for the first games played in the American League in 1901. He has partial accounts for each of the eight teams' first game and will pursue this further this fall. More later.
Publicity

At the SABR convention in Kansas City, Marc Bowman arranged for Dave Smith to appear on the Royals' pre-game show on Sunday, along with SABR member Bill Gilbert. Dave described Retrosheet and put out a general call for anyone who had Boston-Kansas City game accounts from the 1950s; unfortunately there were no responses. Thanks to the great work of Phil Bergen, most of these have since been acquired. The host of radio show, Mike McKenzie, has some contacts in the Atlanta area which may prove useful, since the Atlanta Braves have no records of games before 1974. Inquiries have gone out; stay tuned.

As a spinoff to the SABR convention, Dave Smith was also on the Seattle pre-game radio show in July. At the convention, David Vincent was on the Seattle pre-game show promoting the Home Run Encyclopedia and he later introduced Dave Smith to the Seattle radio crew. Dave Niehaus (is everyone in baseball named David?) has been the announcer for the Mariners since their inception and Dave Smith asked him if he had retained his 1978 scorebook, hoping to pick up that July 4, 1978 game. Niehaus promised to look for it when he got back to the Northwest. Unfortunately he was unable to find it, but he very nicely mentioned Retrosheet on the air, telling his listeners that he would do all he could to find that scoresheet! (Doug Burks and Steve Kolk both reported hearing Niehaus mention us). Just before the All-Star game, Dave Smith was asked to be on the Seattle pre-game show and he gave the usual description, along with a request for a scorecard of the game of July 4, 1978. Three days later Dave received a phone call from Patty Skommesa (see above) with the news that she had the game we needed. Even more remarkably, Patty had not heard the show herself, but some friends had heard it, written down Dave's phone number and urged Patty to call. What a wonderful story! It continues to amaze how Retrosheet gets help from so many people.

Newly Completed Team- and League-Seasons

See last newsletter for comprehensive list; the following details completions since then.

League-Season
NL 1973 (minus 86 games that we are missing)
Team-Seasons
SLN 1963, 1967
BOS 1979
CHN 1969
NYN 1965

Strange and Unusual Plays

Doug Burks continues to find the most distressing disagreements between different sources for a single game, usually base hit fielders, but all too often 53 vs 63, 8 vs 7, etc. On one occasion he had three scoresheets to work from, which would lead one to believe that he could resolve some of the differences. Nope. On one play the three scorers had it: S7, S8, S9.

Doug also wrote: Maybe it's a sign of too much inputting, but I chuckled as I entered a 3­1 play on a 3­1 pitch. The play and pitch count can't match very often, you know.

Doug also sent in an eyewitness account from a minor league game: The second play was the absolutely strangest I've ever seen live. With Tacoma Rainier All­Star dh Jim Bonnici on first, Raul Ibanez crushed a ball to deepest Cheney Stadium (425ft) and Albuquerque Duke cf Reggie Williams just missed a great catch. The next thing I noticed was Bonnici racing around the bases ­­ back to first! A completely confused Ibanez stopped between first and second, where the Dukes tagged him and then Bonnici standing on first. My best guess is that the umps ruled Ibanez out for passing Bonnici, who they left safe at first. What a mess! The play was scored a base hit, so I came up with S8.1­1;BX2(84). Care to comment? :) This play had a hilarious footnote. A few innings later, with Bonnici on first, Ibanez crushed a ball to almost the identical spot, but Williams made a great catch on this one. Once again, Bonnici tore around the bases ­­ crossing home plate just as the Dukes were tagging first for an easy double play. Absolutely unbelievable!

We have this report of the game of the Twins vs Rangers on June 27, 1980: "In 109o heat, Gaylord Perry pitched his 52nd career shutout ­­ a four­hit (Roy Smalley banged out three of them), no­walk, 82­pitch (!) masterpiece. Given his pitching, the Rangers' four­run first iced the game, a 5­0 win over the Twins. The game took only 1:49 to play ­­ to the relief of everyone involved, I'm sure.

Finally, from Doug, in the Mets game of October 3, 1981:
The two scoresheets started completely on the wrong foot, disagreeing on the very first play ­­ K vs 5/L. *ouch* I wonder who arrived late.


From David Vincent:
8/28/79 (MIL at KCA): Top of the eighth with one out and runners on first and second. Ben Oglivie doubles into a DP: D8/DP.2XH(842);1XH(2). Nice base running by Gorman Thomas from first. This is a play that Carlton Fisk performed once for CHA; the catcher here is Darrell Porter.

8/29/79 (MIL at KCA): Final score: KCA 18 MIL 8. Among the pitchers for the Brewers were

 Sal Bando      3 IP  3 H  2 ER
 Jim Gantner    1 IP  2 H  0 R
 Buck Martinez  1 IP  1 H  1 ER 1 BB

The "real" pitchers surrendered 15 ER and 13 H in 3+ IP. KCA sent 12 batters to the plate in the fourth inning and 9 in the fifth.

7/30/25 (SLA at NYA): Earle Combs struck out but catcher Pinky Hargrave dropped the pitch; he threw to first to get Combs but first baseman Harry Rice dropped the throw. Score it K.BX1(2E3)

Earlier this summer, David talked with Bruce DalCanton before a Prince William / Durham game and presented Bruce with the list of homers he surrendered in the majors. On 8/28/1969 playing for Pittsburgh in Forbes Field, Bruce entered the game with 3 Braves on base and Hank Aaron batting. As Bruce tells the story, Aaron hit the ball over the clock on top of the scoreboard and his shortstop came in to the mound with his glove covering his laughter. The only comment was "Way to get out of the jam in a hurry!"

From Luke Kraemer:
I can't imagine this has happened many times in the history of baseball. On 5/27/64 (NYN @ CHN), both Frank Thomas and Ron Santo were called out for getting hit by their own batted balls in fair territory. I don't think I've ever seen this happen once in my lifetime let alone twice in the same game.

From Sean Lahman:
Most scoresheets have a space for weather information, which is usually ignored. (When they do record the wind speed, the direction is invariably noted as a compass direction rather than in relation to the field.) The scoresheets from Astros announcer Gene Elston are very interesting. Not only does he record all of the weather data Retrosheet needs, he also has a space for humidity! And the funniest thing of all is the apparently irrelevant information scorers choose to scribble in the margins. My favorite was from the Yankees scoresheet where the scorekeeper noted that it was Beach Ball day but not the names of the umpires or the attendance.

From Dave Smith:
4-25-59 (LAN at SLN): Solly Hemus, the Cardinals player-manager, starts himself at third base, moving All-Star Ken Boyer to shortstop. Hemus singles in first off Drysdale. In second against McDevitt, he uses Jablonski as a pinch-hitter for himself, and Ray hits a home run. Great managing!

5-14-72 (SFN at NYN): This is the first game for Willie Mays against the Giants in New York after he was traded to the Mets. For SFN, McDowell opens game with W,W,W,HR,K,K,K. He allows no more runs and ends up with no decision as the Mets win 5-4. He allowed one more hit (D to Fregosi) and one walk (intentional).

5-10-59 (PHI at PIT, suspended, completed 7-21): Jim Hearn lost a game after his retirement, which occurred before the game was completed. Ted Kluszewski, who was the first batter after the game was resumed, homered. Both pitchers who were in the game at the time of the suspension stayed in to pitch in the resumption. PHI made three defensive changes (Willie Jones had been traded in the interim), and, of course, there were new umpires.

While finishing up the 1983 proofing, Dave needed to account for one more GDP by Ricky Henderson. Here is the play, which was originally entered (quite reasonably) as an LDP:
43(B)63491(1)/GDP
Now that's throwing the ball around!

Bob Kapla has found some gems while working on the 1965 Twins.
In one game the Twins scorer gives Oliva a single and the Yankees a walk. These differences show up in their totals for the day as well.

Here's a double play following an error:
E4/DP.2­H(NR);1XH(252);BX2(26) with this explanation: Weis booted a ball to start the play allowing Killebrew to score. Then, Mincher was caught in a short rundown between third and home. In the meantime, Kindall (the batter) tried to sneak over to second and was also caught.

And, on a personal note, Bob offers the following:
I've gotta run; we're showing our house this afternoon to a few prospective buyers and I haven't even started to get it ready. It would seem like an easy chore, but with three little boys running behind me undoing all the work that I do it's a full­time job! That's why I stayed up late last night inputting the last couple of games. I didn't need the temptation of some unfinished scoresheets in my file cabinet as I tried to clean . . . It's like an addiction! I heard that untranslated scoresheets are considered a controlled substance in seven states, is that true? :)

Take care and I look forward to hearing from you and getting another "fix" in the near future.

From Scott Fischthal:
In the ongoing debate of how many players pinch-hit for Henry Aaron (Chuck Tanner was not one of them), Scott found John Blanchard did so on September 11, 1965 vs the Mets.

Scott also found a great quote from Casey Stengel while working on the 1965 Mets. In the game of July 20, the Braves won 7-1, scoring all 7 in the 7th inning, the last two on a home run by Henry Aaron off Larry Miller. "After the game, Stengel is quoted after being asked why he'd bring in a mediocre lefty to face Hank Aaron: 'You don't bring in the best surgeon when the patient is already dead.;"

Rick Elliott has noted before that the 1953 Tigers were a pretty grim team, but he encountered a streak where they lost 7 of 9, all in last at bat, 3 in extra innings.

While working on the 1940 Cleveland Indians games, Brad Sullivan came across the following: On June 23 Ted Williams, running after an eventual inside-the-park home run, collided with Doc Cramer and was knocked unconscious.


The Scoreboard

We follow the practice of publishing a short version of the scoreboard in this issue. We publish a complete version once a year. The current summary for regular-season games is as follows:
| | |
| --- | --- |
| Total Games in Computer (All Years before 1984) | 29096 |
| Games Entered since last Report | 2178 |
| Days since last Report (5-26-96 to 8-10-96) | 77 |
| Games Entered per Week (11 weeks) | 198 |
| Games Entered per Day | 28.3 |
The smallest number of games input in a single week during this period was 105 and the highest was 481.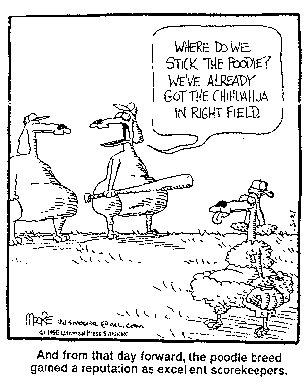 Return to News Page
Return to Retrosheet Home Page

Page Updated: 9/6/96

Copyrighted: Retrosheet, 1996